Cost effective energy saving for schools and education facilities
Pressure has begun building throughout the entire UK for all businesses and public services to become more environmentally friendly in order to reach 2020 Carbon reduction targets – This includes education facilities.

A few facts about energy and schools
More pupils means a higher energy usage and higher demand for resources
Education budgets are already being reduced and stretched
The total annual energy consumption of the UK schools sector is 11,378 million kWh. This equates to 25% of the total public sector energy costs
School energy costs are estimated to increase to £652m per year, and this is predicted to rise still further www.gov.uk
The average cost of energy per school is £27,000, although secondary schools can have bills over £80,000 www.gov.uk
The unfortunate truth of the situation is that energy is one of the biggest business overheads and as student numbers are expected to rise, facilities are struggling to find money to cover the cost.
We recommend an Education Facility Development Plan
At Exchange Utility, we care about saving your education facility money and have therefore developed a three prong attack for you to follow to reduce your energy spend.
Education facility energy development plan: Educate students
Educating your students about the importance of reducing the amount of energy they use is becoming an essential part of keeping your energy costs down and building a more environmentally friendly future for the planet as a whole – You never know, the person who could invent the idea behind the next ground breaking energy generating technology could be one of YOUR pupils. So inspire your students to care about their usage and get them into good habits in and around school.
One way that you could do this is by getting in touch with Exchange Utility. We're offering the opportunity to arrange an energy efficiency speaker to motivate pupils to get proactively involved in cutting energy consumption both at home and in school.
Simply call 0800 9777 000 to book your visit today or fill in the energy savings for schools enquiry form below.
Education facility energy development plan: Empower staff
Getting your teachers and support staff involved in creating standards and routines that result in savings is essential. Allow them to investigate, source and implement energy efficiency measures and inspire them to adopt an energy saving checklist for the end of the day so they you know you aren't wasting electricity, gas and cash out of hours.
If you're unsure of how to get started, why not use the Exchange Utility end of the day energy saving check list? Try it here >>
Education facility energy development plan: Evaluate your education facility contracts
It is estimated that 1.3 million UK businesses are overpaying for their business energy and utilities, resulting in suppliers accumulating excess profits of over £500m. There are many reasons that you may be being over charged on your energy contract, these include going out of contract and rolled onto a higher priced tariff or simply being on the wrong tariff to suite your operation hours.
At Exchange Utility, we can use our long term business energy supplier relationships to get you a better deal on your business energy. We compare a range of tariffs from UK energy suppliers to find you the best deal at the right price without the hassle of having to jump from supplier to supplier.
All you need to get started and see how much you can save is a recent gas and/ or electricity bill.
You can call our business energy experts on 0800 9777 000, or email your bill to savings@exchangeutility.co.uk or complete our simple online enquiry form Compare Business Energy Prices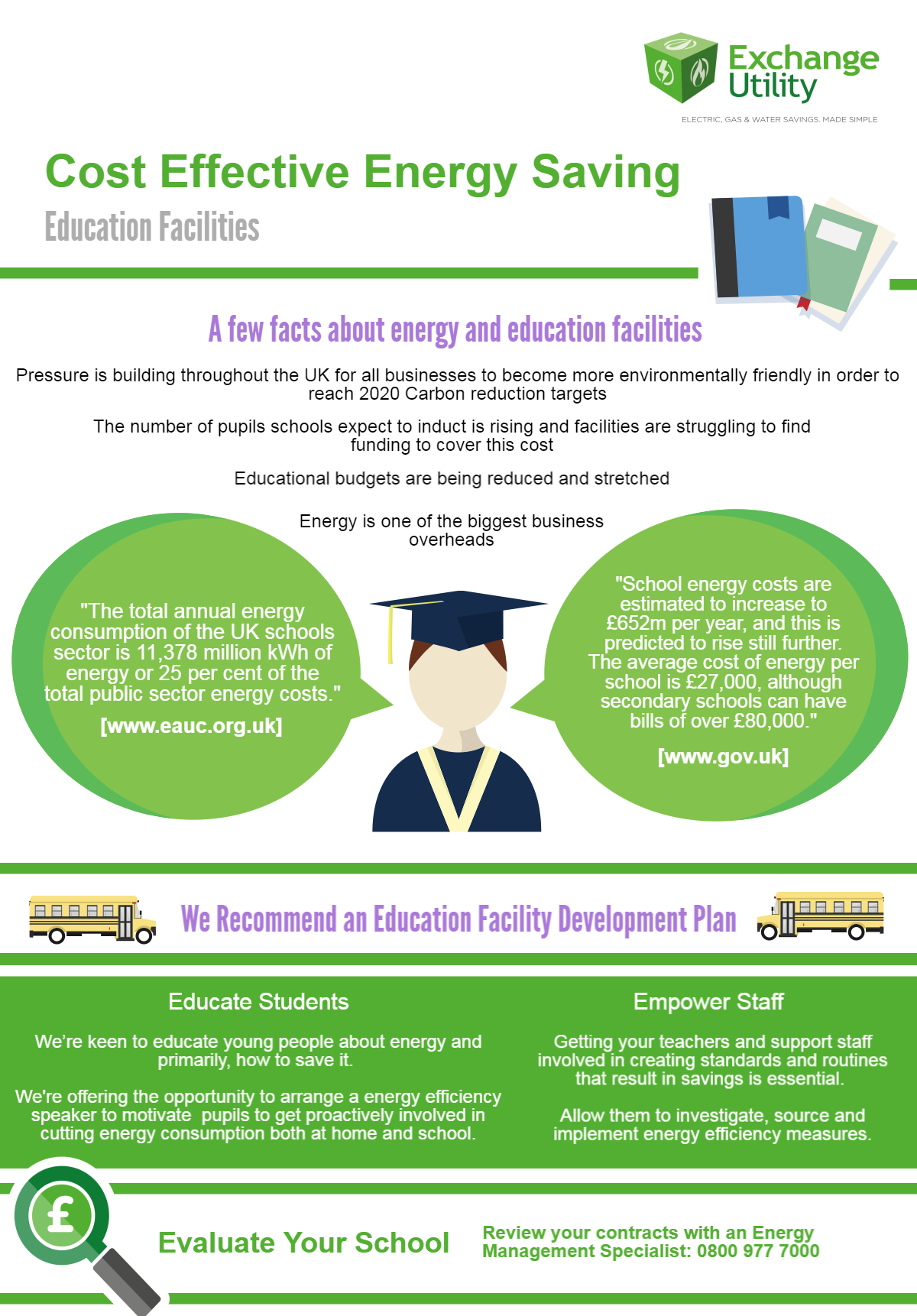 To view a larger version of the infographic, Click Here