Energy career perks: How Exchange Utility help staff to succeed
Why offer energy career perks?
At Exchange Utility, we pride ourselves on our commitment to team member wellbeing and on providing some of the best energy career perks in the industry.
With the rapid expansion of our team over recent years, we have made it our objective to implement measures that keep our staff happy, maintain our family value orientated culture and benefit those involved in our organisation – both inside and outside of working hours.
We're proud of the progress that we have made so far in this area. Offering energy career perks has resulted in us being able to attract and maintain the best talent in the industry, from both the local area and further afield.
What energy career perks do Exchange Utility offer?
We offer a fantastic package to those looking to embark upon an engaging career in business energy. We do this because we believe that a happy workforce is a productive workforce – We have yet to be proven wrong!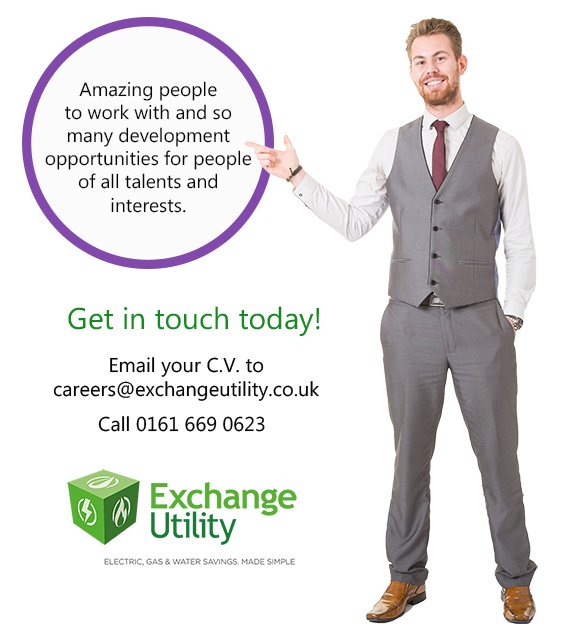 Each benefit that we offer has a positive effect on staff as well as the business, so for any budding businesses looking to create a truly enjoyable employment experience, listen up!
The perks of a career in energy with Exchange Utility:
Start your weekend early with a 2:30pm Friday finish time
Uncapped commission
Internal progression and training opportunities
Departmental autonomy
Back massages to aid lumbar support (sitting at a desk can be very strenuous)
Fun, interactive activity days
Charity fund raising events
Reward schemes and incentives
Regular opportunities to win a luxury get away for two
An ALL INCLUSIVE annual dinner
Get these energy career perks, apply for your new role with Exchange Utility today
What additional energy career perks will Exchange Utility be offering in 2017?
2017 is already looking like it's going to be an exciting year. We have lots of plans for expanding and engaging our workforce more than ever before!
This is going to require a LOT of energy!
That's why we're pleased to announce that we have partnered with local gym Anytime Fitness Bury, so that we can facilitate our team members with a way to relieve tension and enjoy their spare time that little bit more.
To aid us in getting started, Anytime Fitness Bury, are offering all Exchange Utility staff members full access to their facilities from the 23rd January 2017 to the 30th January 2017 for FREE! Furthermore, any staff members who wish to pursue a full membership with the club will be given EXCLUSIVE access to special Exchange Utility staff membership rates.
"The Open weeks we have organised for Exchange Utility in the past have created a lot of interest including regular visits to trial the facilities throughout their exclusive week. I'm sure the open week due on 23rd January will be just as good, if not better.
All Exchange Utility employees receive a corporate membership rate of £27.99 per month, we would like to offer a free personal training session for each staff member that joins. Additionally, within the open week we will run an exercise class on Wednesday 25th January at 12.30."
Being involved with Anytime Fitness Bury has already proven to be highly beneficial for our business. We spoke to the Bury Club Manager Neil Mcdonald about how incorporating fitness into your business perks benefits everyone:
"In my experience it's very important for health clubs to support people in the workplace and get more people active. It is known that there is less sickness in the workplace when more of their employees are keeping fit and healthy.
We have found working with Exchange Utility a very pleasurable experience. The staff that have joined Anytime Fitness are thoroughly enjoying their memberships and also like to get involved in some of the gym challenges we do as well."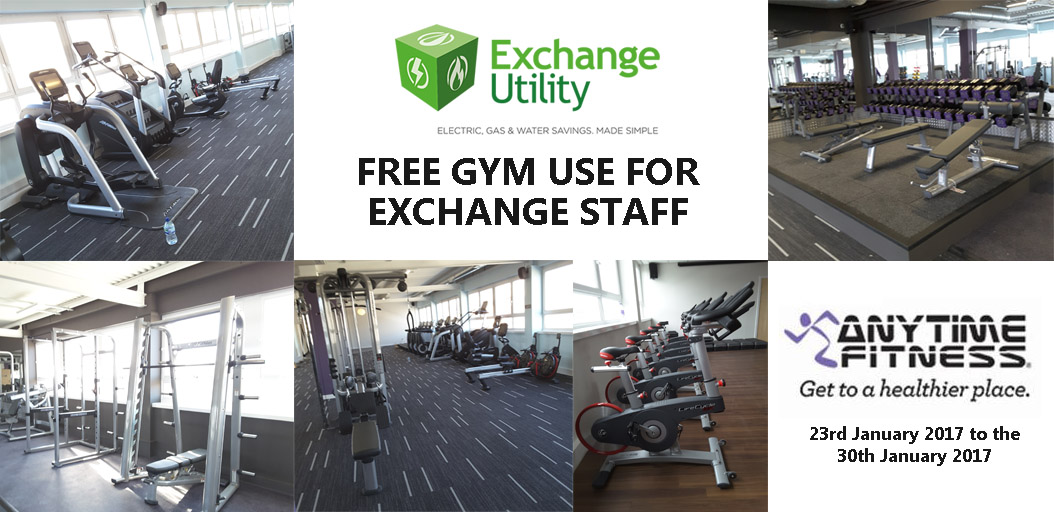 Want to enjoy the energy career perks of working with Exchange Utility?
JOIN US! We have plenty of roles available for those looking for their next challenge.
We have so much to offer, why don't you take advantage of it?
QUICK APPLY for a career with Exchange Utility in seconds
Alternatively get in touch with our recruitment team on 0161 669 0623 or email your C.V. to careers@exchangeutility.co.uk