Compare Business Electricity Prices Today!
Did you know that many businesses across the UK are still overpaying for their business electricity? Don't continue to make the same mistake, compare business electricity suppliers today to find the most competitive prices and stop missing out on savings of up to 45%* on your electricity bills.
To get started, either call us on 0800 9777 000 or fill in the quote form above to see how much you could save…
*Average savings of 45% can be achieved when compared to your current electricity supplier's standard out of contract rates
---
Choose a new supplier for your business electricity
✓ Fixed tariffs and flexible contract options to meet your needs
✓ Efficiency advice and green energy alternatives
✓ Compare and save on your electricity
✓ Discounts for paying by direct debit
✓ Comparison of all of our UK energy suppliers and their tariffs
Regardless of your industry, product or service, electricity comparison for businesses is an essential part of operating, if you don't want to end up paying over the odds for your utilities complete our short electricity comparison quote form to see how much you could start saving today! It's a super simple process that allows a business to compare electric prices, through industry experts to help you find the best deal.
When you compare with Exchange Utility, we advise you on the options available to you from our panel of suppliers. Exchange Utility will always offer you independent advice.
We are on hand throughout the entire process, our team will make sure your electricity comparison switch is as seamless and time efficient as possible.
Our business electricity experts can provide market insight to facilitate a decision that could significantly lower your energy overheads.
Five steps to finding the best business electricity suppliers
Find a recent business electricity bill
Complete our short form on the site or over the phone
Our experts will compare over 20 energy providers
Gain access to competitive pricing offers
Select a new business electricity deal that suits your business
Business electricity rates: Compare for better business electricity tariffs
If you're searching for the most competitive business electricity rates, you have come to the right site. All you need to do is click the button above and enter a few details then sit back and relax.
We will search our panel of suppliers for the lowest business electricity rates. Once we have searched for you, we will provide all the quote details so you can make the best decision for you and your business.
Ready to find a great business electricity tariff? Then give us a call on 0800 977 7000 or fill in the quote form above and we will get back to you.
Reduce the price you pay for business electricity
Completing a business electricity comparison isn't the only way that you can cut the cost of your energy bills.
Reviewing your energy usage and acting on efficiency advice can be extremely constructive!
The best way to reduce your business energy consumption and the cost of your bills is to find out where you use the most power. This way you tackle the biggest issues first.
You can find energy efficiency tips and advice on our blog.
Five benefits of a business electricity comparison for your commercial property
The commercial electricity, gas and water markets can be confusing places, so there are significant benefits to carrying out an electricity comparison for businesses with Exchange Utility that include the following:
Compare over 20 energy providers to find the best deals
Benefit from expert cost reduction advice on your electricity, gas and water contracts
The only paperwork you will need to do involves simply signing two documents to allow us to complete your switch – We take care of the rest!
Feel confident that you're getting excellent service by taking full advantage of Exchange Utility's outstanding supplier relationships
Never worry about going out of contract and being placed on a higher rate, standard tariff – Our experienced account management team will continue to provide you with support to ensure that this doesn't happen
Switching business electricity is easy
To switch utility providers, you can complete a business electricity comparison with Exchange Utility to find out what our range of UK electricity suppliers have to offer your business.
Before you call the business energy team on 0800 464 0990 or complete an online enquiry with the below form, make sure that you have a recent energy bill to hand – This will make the switching process faster as we will have all of the details that we need to take action.
Our expert representatives will guide you through the entire process to get the best possible result for your business.
What type of business electricity tariffs are there?
Business electricity prices can cause a lot of stress for the owners of both SMEs and large corporations.
That's why, when looking into getting competitive electricity prices, it only makes sense to weigh up the different tariff and supplier options that your business can access.
When you compare electricity prices with Exchange Utility, you receive easy access to a range of fantastic UK energy provider options – including tariffs from the Big Six suppliers.
✓ Fixed-term contracts: These contracts lock in the price of electricity for a set period of time, typically 1-5 years. This can provide peace of mind for businesses, as they know that their electricity bills will not fluctuate during the contract period. However, fixed-term contracts can be more expensive than variable-rate contracts.
✓ Variable-rate contracts: The price of electricity on these contracts changes on a monthly or quarterly basis, based on the wholesale price of electricity. This means that your electricity bills could go up or down during the contract period. However, variable-rate contracts can be cheaper than fixed-term contracts.
✓ Extended/Roll Over contracts: These contracts are usually more expensive, but they can offer businesses some peace of mind. This is when you haven't terminated your contract, and the supplier's terms and conditions mean you have entered a further 12-month contract.
✓ Flexible contracts: These contracts are only available to large customers, and they can be very hard to budget for. This is where you fix a framework deal, in which you must purchase your energy at various points of the contract. A good procurement strategy would take advantage of troughs in the market curve, take a look at our guide on procurement options here.
✓ Pass-through contracts: These contracts can cause your bills to vary throughout the contract and can cause customers to get unexpectedly high bills. This is where your commodity (electricity) is fixed but the non-commodity (government and industry taxes and levies) is passed on to you at the prevailing rate. These can either be shown separately on your bill or built into the unit rate and standing charge.
✓ Deemed Rate contracts: This is the most expensive tariff, and it is usually when you have just taken over a property you will be on a deemed tariff. It is imperative that you get off this as soon as possible.
SME business energy prices
SMEs are always looking for ways to save money, and why not! It's better to put money back into your business and grow rather than waste money unnecessarily.
Here at Exchange Utility, we will try our best to help save your SME as much as we possibly can with business electricity comparison rates, so you have the best business electricity rates. If you would like to find out more about what we have to offer, take a look at our FAQs page.
What happens to your business electricity rates when you go out of contract?
If you fail to review your commercial electricity rates before your contract end date, you will be rolled on to another contract or on to out of contract rates, which in both cases will be costing your business money.
You may not have been notified that your contract is coming to an end, so it's your responsibility to ensure that your business doesn't fall into the rollover trap.
When you have become a customer with Exchange Utility, your business electricity rates will never be subject to an expensive rollover energy contract again. Our account managers will monitor your contracts closely to ensure that you make updates when necessary so you avoid paying more than you need to.
What is affecting business electricity prices?
At the start of the year, many of the major electricity providers announced that their rates would be increasing. Some of the smaller providers have now followed suit, with others still to make a decision. It is now thought that 80% of small businesses are now overpaying on their electricity bills.
With energy prices being as unpredictable as they are right now, the best course of action for any business is to compare rates. This way, Exchange Utility can compare utility tariffs and look to find you a saving.
How to compare business electricity rates
Before you start to compare electricity rates, here are some key questions you will need to answer in preparation.
When is your contract end date? The first thing to know when it comes to comparing business electricity prices is that timing is everything. If you're six months away from your current contract expiring, you will be within your renewal window. If your contract has more than six months left, then you will not be able to arrange the switch you want.
How much are you currently paying? Naturally, this is quite an important piece of information for you to have to hand. Make sure that you have all the details about how much you're paying to hand. That way you will be able to spot when you have found a good deal.
Do you have your latest bill? When you start comparing prices with us, we will ask you for the details of your most recent bill. This will help us provide more accurate information with your quotes.
Compare business electricity supplier rates online
Comparing your business electricity rates has never been so easy. A few years ago comparing business electricity rates would have been a nightmare. But today it's a piece of cake, especially when you are choosing us as your energy comparison company.
Business electricity comparison
Getting the most competitive commercial energy rates is one of the main factors in switching electricity companies. After all, who wants to pay more? When switching with us, we will show you all the business electricity rates currently on the market and then it's up to you to choose which one best suits you.
What's the best option for my business?
Making the right choice really depends on what you are looking for and what will suit your type of business.
✓ Take everything into account: Make sure that you look at everything that a supplier has to offer. Are they offering some sort of package? Do they offer tariffs that fit well with the way you run your business?
✓ Be selective: While it is tempting to simply choose the lowest rates you come across, this isn't always in your best interests. The tariffs or the overall package could be inconvenient for your business, which could lead to other problems as time goes on. Make sure that you look at all the details in the quote before you make a decision.
Switch your business electricity today
To get started and enable us to prepare an accurate comparison for you, we will need some information from your electricity bill. This will be your meter number, bill period, payment amount and tariff information. Not sure where to get this information or have any further queries? Give us a call today and we will provide you with the very best business electricity prices, advice and cost effective solutions.
To get started, either call us on 0800 9777 000 or fill in the quote form above to see how much you could save…
---
Frequently asked questions about business electricity price comparisons
Is switching my energy supplier a good idea?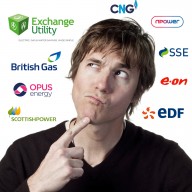 Businesses use significantly more energy than the average household in the UK, so making sure you're always on the most competitive electricity tariff is an easy way to save your business money. If your current supplier has allowed you to roll on to a higher tariff, you could already be spending more money than you have to.
How much money could my business save by switching today?
Our energy experts are very knowledgeable which makes it easy for them to find you the most competitive energy prices available, on average saving you up to 45% on your annual energy bill. Not only that, they'll continue to monitor your tariff and let you know if anything cheaper becomes available, ensuring you never pay over the odds for your business energy.
If I change providers, will my business' energy supply be interrupted?
No. Your old contract will move smoothly into your new one without any interruptions.
What are smart meters and how do they work?
A smart meter is very similar to your old meter except it communicates electronically with your power supplier to ensure your power readings are as accurate as possible. Also, a smart meter comes equipped with an LCD display which allows you to easily observe how much energy your business is using.
Which commercial electricity tariff is right for me?
There are five kinds available: fixed, variable, flexible, feed-in and green. Briefly, here's what each one entails:
Fixed – A rate is agreed upon at the start of the contract and stays the same, protecting you from price changes in the wholesale energy market.
Variable – The rate of a variable tariff will fluctuate throughout the duration of the contract, depending on the state of the wholesale energy market. The benefit of this is that your monthly energy bill will occasionally be cheaper. Conversely, you also risk paying more too.
Flexible – A form of energy tariff offered mainly to businesses with more than one premises across the UK. It involves purchasing energy directly from the wholesale market in separate pieces throughout the duration of your contract. This tariff can get complicated, which is why most good suppliers will assign you a dedicated Account Manager to manage your purchases.
Feed-in – If your business premises are equipped with an onsite power generator (such as solar panels or a turbine), a feed-in tariff will enable your supplier to purchase your excess energy at a fixed rate, potentially resulting in massive discounts for you.
Green – For conscientious companies interested in investing in renewable energies, look no further than a tariff from a green energy supplier. Our expert advisors will recommend the right tariff for you based entirely upon the specific needs of your business, in order to get you the best price possible.
I own different properties, can I switch all my meters at the same time?
Yes, we'll use our expertise to determine which tariff is most suitable for the specific needs of your business and manage the entire transition for you.
What is 'green electricity' and will it save me money?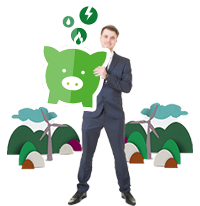 There are many suppliers who now offer electricity options derived entirely from renewable resources, such as wind, solar and hydroelectric power. Although these tariffs tend to be priced a little higher, they can offer your business green credentials.
What information will you need for my business to switch?
Once you've decided on a new tariff, all we need from you is a recent bill from your current provider and a signed  LOA (Letter of Authority). We'll then be able to take care of the entire process.
Is it difficult to switch business electricity suppliers?
For you, not at all. Once we've found you a tariff you're happy with, it's our job to ensure a smooth and seamless transition to your new energy provider. Your power won't be interrupted, and we'll only communicate with you if required.
What is the average saving I could expect for my business?
On average, our energy experts can help save your business over 45% on energy bills.
Will my business' electricity price per kWh change?
Yes. Our energy experts will compare providers on your behalf to find you a better value tariff, meaning your business will begin paying less for electricity per kilowatt.
What is a Kilowatt Per Hour?
A kilowatt-hour (kWh) is the unit measurement used for energy, used by energy suppliers to calculate your gas and electricity bill. It is equivalent to 3.6 megajoules of energy. This unit measurement is commonly used to describe usage on energy supplier billing. A kilowatt-hour is a unit of energy equivalent to one kilowatt (1 kW) of power sustained for one hour. One unit refers to the use of 1000 Watts over one hour.
What is the difference between a kW and a kWh?
Kilowatts (kW) represent a unit of power whereas a kilowatt-hour (kWh) is a unit of energy. A kilowatt is 1,000 watts. A kilowatt-hour is your average energy usage over an hour. This is also what your bills are calculated from.
Who is my electricity supplier?
To find out who supplies the electricity to your business you can check one of your recent electricity bills. Exchange Utility can also help you find your gas supplier. You can fill out a Letter of Authority and we can find your gas supplier as quickly as possible, read more on what a Letter of Authority is here. You are likely to be with one of the following three electricity suppliers:
National suppliers – Operating in multiple regions a national supplier will provide electricity to a variety of business sizes. These include the likes of British Gas, EDF Energy and E.ON.
Regional suppliers – These suppliers will operate in a specific region within the UK and will most likely tailor energy plans to suit those areas. These include the likes of Scottish Power, Npower and SSE.
Independent suppliers – A much smaller electricity supplier which specialises in specific types of plans such as eco-friendly ones. These independent electricity suppliers include the likes of Green Energy UK, Ecotricity and Bulb.
What is a letter of authority?
Let us set the scene: We have negotiated some fantastic electricity prices for your business, you have chosen your new tariff, and we have gone through the verbal contract with you. The next step in your business energy switchover is to complete the Letter of Authority (LOA). A very quick form to fill in but very important as this enables us to act on your behalf so that we can liaise with the suppliers and handle the switch for you.
What is a termination notice?
A Termination Notice is a document that we use to tell your supplier that we are terminating your current tariff and moving you onto a new one with new business rates. You will receive a termination notice and a Letter of Authority in your Welcome Pack which you simply need to sign and return to either terminations@exchangeutility.co.uk or by post to: Exchange Utility, Bridge House, Yeargate Industrial Estate, Bury, BL9 7HT. These documents allow Exchange Utility to act on your behalf and complete the transition from one supplier to another for you.
Do you have any more questions about business electricity rates per kWh?
If you have regulatory concerns about your energy supplier, contact Ofgem for support. If you would like to get a price on your commercial electricity rates, then fill in the form at the top of this page. For a more detailed guide on on Ofgem and what support they can offer you take a look at this guide.
Why use Exchange Utility to compare business electricity?
✓ Our customer support team is one of the best in the industry
✓ We have years of experience in the comparison of businesses' electricity
✓ We have built a solid reputation for being a reliable, independent and trustworthy comparison company
✓ We are able to compare electricity prices from industry leaders to find you competitive rates
✓ Whenever a business gets in touch with us, we always work hard to get them the most competitive rates
✓ Don't just take our word for it see what our customers are saying about us on Trustpilot
To get started, either call us on 0800 9777 000 or fill in the quote form above to see how much you could save…