Find the Best Business Energy Supplier for Your Business
Why do I need to compare business energy prices?
Of course, you don't need to switch supplier if you don't want to if you're still happy with your current supplier…
However, did you know that 40% of UK businesses are paying over the odds because they've not changed energy provider?
We've all been there. The dreaded energy bill arrives in the inbox with the fear of sky-high costs. But this doesn't have to be the case.
People often feel overwhelmed with where to look for energy tariffs. With an excess of information of hand and a variety of perks and services on offer, you can end up stuck in what feels like a never-ending rollover contract.
But the fact is, everyone can cut their business costs. Shopping around will ensure you're on a tariff that's right for you and your business, so the surplus cash could be put to better use.
How do I switch business energy supplier?
Let's face it, when it comes to energy usage, we understand that no company is the same. A one size fits all approach is just not feasible. As an independent company, we endeavour to get you the best rates to suit your exact business needs. We search the marketplace for you and help you decide on the best supplier.
With a hassle-free, effortless approach, we'll get you switched in no time, so you can sit back, relax and be confident that you've got the very best package.
Which business gas and electricity supplier should I choose?
In order for us to be able to properly evaluate which gas and electricity supplier will be right for your business, we need to better understand your current usage and requirements. The easiest way for us to be able to do this would be for you to contact one of our friendly team and let us know a few details about your current usage to be able to properly evaluate each supplier to save you money!
To speed up the process, make sure you have the following to hand:
✔ Latest energy bills
✔ Contract end date
✔ Yearly consumption
Get in touch with us today using one of the following options:
✔ Call 0800 9777 000 for free to speak to an energy expert
✔ Complete our online enquiry form
If you would like to read more about each of the current energy suppliers we can compare for your business, click on the links below:
Why switch business energy supplier with Exchange Utility?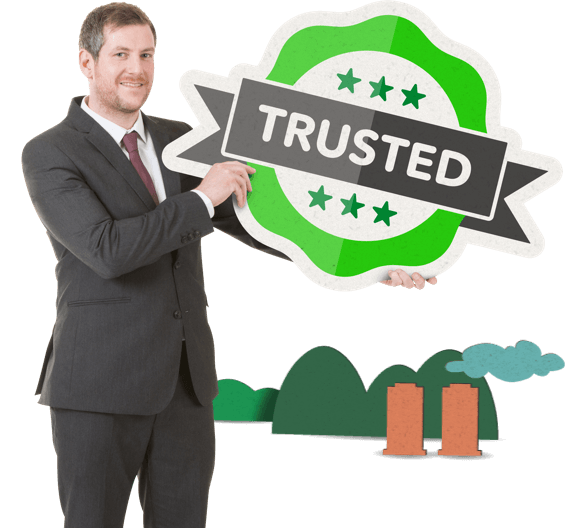 ✔ We compare prices from the best energy suppliers
✔ We offer a personal service that makes each kilowatt count
✔ We provide stress-free switching to save you time and money
✔ With a 5* Trust Pilot Score, our customers love us
✔ Our team of energy experts keep up with the latest trends
How to save on your business energy bills
People commonly think that switching energy provider is a complicated process that comes accompanied with a headache. But they're mistaken. There's a full and competitive marketplace out there which needs to be taken advantage of.
It can, however, be a lengthy process, with the average time for a business energy switch taking 4-8 weeks. This is where energy comparison companies come in handy… let us do the legwork for you.
If you haven't paid all your bills yet, be sure to tie all loose ends up first. Similarly, if you want to exit a contract partway though there may be exit fees that apply, so weigh up the pros and cons first, because it may be more advantageous to bide your time and stick the contract out.
It's easier than you think…
Savings are subject to the size and nature of your business and essentially how efficiently it's run. Find out how to implement sustainable practices with our 5 benefits to being an eco-friendly business.
To get the best tariff out there, it's all about ringing round to get a breakdown of the unit rates and any standing charges. With our 5 simple steps, you'll be on a cheaper tariff in no time.
✔ Grab a recent energy bill to get a free independent business energy comparison quote
✔ Start a comparison with our short form, call our friendly team on 0800 9777 000
✔ Sit back and relax, we'll get you the most competitive prices for your business through our business energy experts
✔ Discover preferential energy rates with a wide range on offer
✔ Select your saving with the right contract for you and sit back and relax
Here at Exchange Utility, we can take care of the whole process for you, from collating quotes to negotiating the most competitive deal for you. We'll handle all the paperwork so you can concentrate on the important things – like running your business –  confident that your gas and electricity needs are in good hands.
Will there be any disruption to my business?
Don't worry, it will be business as usual. You'll simply need to take a final meter reading and pay off any unpaid bills to ensure your account's up to date. Your new supplier will then coordinate with your old one to put the arrangements in place. The switch doesn't require a site visit, the only thing that will change is the company who bills you.
What do I need to know about business energy?
Every business is different which is why there are so many different tariffs on offer. You should consider how much energy you use and your financial situation because choosing the correct tariff will determine how much energy you use and how you'll pay.
Fixed contract – They are usually cheaper in the long run and are recommended for SMEs. You'll pay the same price for each unit of gas and electricity used every time, which allows you to plan and calculate your finances. You will also be protected against wholesale energy price surges to ensure you don't get stung by expensive bills.
If you increase the amount of energy you use, the amount you pay will also increase. This type of tariff only guarantees the cost of your standing charge and the amount you pay per kilowatt hour.
Variable-rate contract – OFGEM claims that 66% of all UK households are on variable tariffs. These are a riskier option however still have their perks. If the market price of energy falls, so will your bills. They are also incredibly flexible with how you wish to pay and when you want to leave which is ideal for a seasonal business or pop-up shop.
Disadvantages stem from the unpredictability of the energy market. If it rises then you could end up paying extortionate prices. What's more, it can be harder to budget for business overheads as prices tend to fluctuate.
When was the last time you checked your business energy contract?
If you haven't checked your contract in a while, you could be paying over the odds for no reason other than the fact you've not shopped around.
28-day contract – This is a tariff for businesses who haven't switched since the energy market was deregulated. Rates are affected by prices fluctuations. You're able to save big money by simply switching to a new energy tariff.
Deemed rates contract – Also known as a contract rate, this tariff tends to offer rates that are above market average since it's a rolling deal because no contract has formally been agreed. If you want to exit, there's a 1 month notice period.
Rollover contract – Rollover contracts are when no alternative has been agreed before the contract ended so the contract is carried on but at a significantly high rate. You'll be stuck in this for a year which is why it's so important to not push your energy tariffs to the back of your mind.
Can I get a corporate energy management contract?
If you're a high-end user of energy, for example, you use large machinery or have multiple sites, you can benefit from corporate energy management services. These contracts offer additional perks because they want your custom. They vary from business to business but can include:
✔ Special tariffs
✔ Dedicated procurement manager
✔ Online account management
Large companies can secure corporate deals through several suppliers to take full advantage of what's on offer but this can complicate things. We have a Corporate Energy Management Team on hand who are experienced in securing the best possible options for large and multi-site business. We will interpret the market for you and negotiate the perfect strategy for your business.
What do I need to do to get a business energy price comparison?
That's easy, just fill in form at the top of this page or visit our dedicated business energy comparison page to learn more and we will compare all business energy prices for you.